Understanding Cash House Buyers
For those who may not be familiar, with this term cash house buyers are either businesses or individuals who purchase properties outright without relying on mortgages or loans.
Essentially they possess funds to swiftly finalise transactions reducing the time and paperwork typically associated with traditional property sales.
The role of the Cash House Buying Guru is to steer you through these murky waters using industry knowledge to prevent from you from dealing with companies that may provide you with, let's say, a less than perfect service. You want a fast sale, for the best price with the least amount of messing around as possible and that's what this website is all about.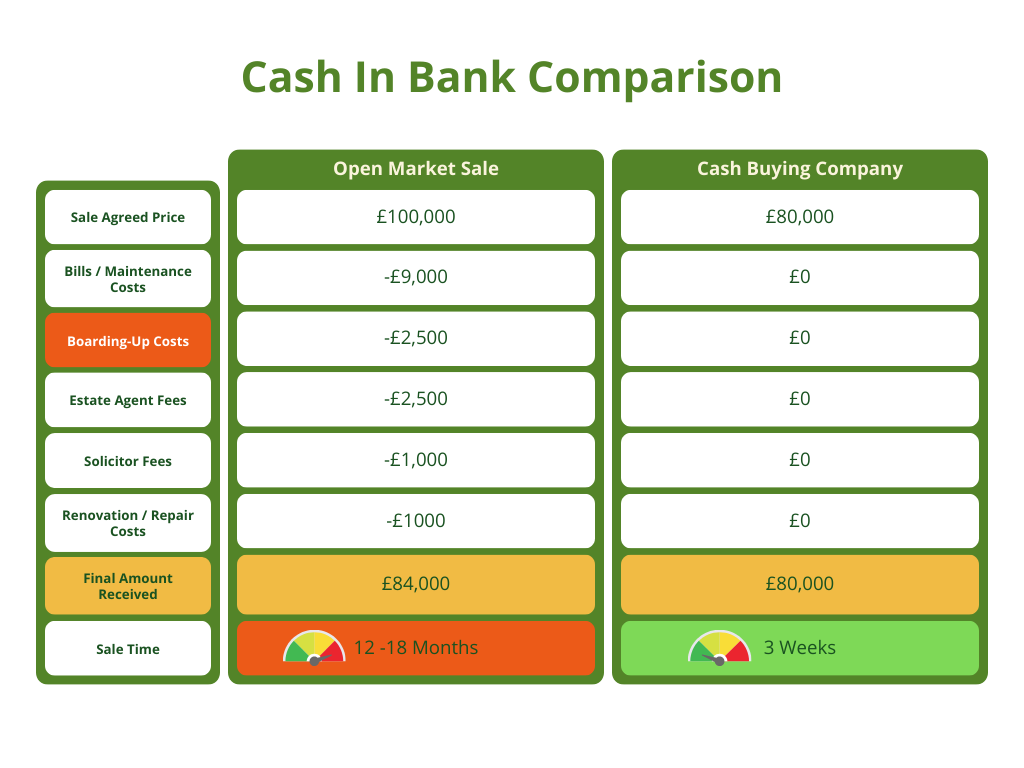 Fast Sales to Prevent Homelessness
Selling a home usually entails time and stress which is particularly burdensome when facing the possibility of homelessness.
Picture a scenario where eviction notices are piling up and time is running out. Waiting for months to find a buyer is not an option. Cash house buyers have the ability to close deals within as little as seven days, providing you with much needed breathing space.
Selling your home quickly can sometimes bring to mind concerns, particularly about buyers taking advantage of your situation. However, there are cash house buyers who offer a market value for your property, ensuring you receive a price that can provide the necessary funds to make a fresh start and this is where the Cash House Buyer Guru comes in.
Closing a cash deal quickly is very important for those facing homelessness - every day counts. Cash house buyers not only make offers but also prioritise closing deals promptly. With fewer steps involved than a traiditonal sale, there is less risk of the deal falling through which can be a real lifesaver in desperate situations.
When you're on the verge of losing your home, thinking about repairing issues such as a leaking tap or patching up holes in the walls may not be your top priority. Thankfully cash house buyers typically purchase properties "as is," eliminating the need for you to invest time and money in repairs and renovations.
How Cash House Buyers Can Assist Individuals Who Are Already Homeless
The issue of homelessness extends beyond those, at risk as it also involves aiding individuals who have already lost their homes. Cash house buyers can contribute to addressing this problem by purchasing properties that can be renovated or repurposed into housing.
Certain cash house buyers not offer sales but also connect individuals with social services, financial advisors or legal aid to help them navigate the complex challenges they face. These supplementary services are invaluable for those at risk of homelessness. Already experiencing it.
Tackling the Issue of Homelessness; Amy Varle and the Innovative Approach of Social Property Investment
In times the matter of homelessness has become increasingly urgent. Official records often fail to capture the extent of this problem.
Among those deeply dedicated to making an impact is Amy Varle, an entrepreneur in the property industry and a passionate advocate for addressing homelessness. Having experienced homelessness herself at the age of 16, Amy Is on a mission to find solutions for preventing and responding to homelessness.
Social Property Investment: A Multi Faceted Approach
Amy Varles started a project called "Social Property Investment" is at the forefront of pioneering a model for tackling homelessness. This has now became "Socially Homes" (see https://www.sociallyhomes.com/#/) and we are proud to support her in her endevours by providing this link to our readers, we hope you take the time to check out her website and Twiiter page at https://twitter.com/MissAmyVarle
This initiative not only focuses on renovating studios to provide housing for those in situations but also offers an array of support services including rehabilitation programs, one on one assistance and empowering workshops.
The aim is to equip individuals with the means to enhance their quality of life, aiding them in securing employment opportunities and ultimately empowering them to transition into more positive life circumstances.
The project has gained recognition, for its effectiveness with hopes to replicate this model both nationally and internationally. Drawing inspiration from practices internationally, Amy has recently been honoured with a Winston Churchill Fellowship that took her on a six week journey across the United States.
Now let's turn our attention to the relevance of these insights for cash house buying companies.
Such companies, known for their ability to swiftly purchase homes in exchange for cash can learn from Amy Varle's strategy by investing in properties that can be transformed into housing units.
By collaborating with governments and non-profit organisations, these companies can add a layer of sustainability to their business model while making a meaningful social impact.
In Conclusion: A Lifeline in Times of Need
Therefore if you find yourself on the brink of homelessness or are already facing it do not underestimate the role trustworthy cash house buyers can play in providing a way out. It is not about selling and receiving immediate cash; it is also, about having the time and peace of mind these transactions afford enabling you to focus on securing a more stable future for yourself.