Selling your home is a major process that requires time and strategic planning. As a homeowner in the UK, you may be wondering, "How long will it take to sell my house?" According to recent housing market research, the current average time it takes to sell a house in the UK is around 4-6 months from the time it's listed to when the sale completes. However, this average can fluctuate based on property type, location, market conditions and other factors.
Here is a more detailed breakdown of the typical house selling timeline:
4-8 weeks to find a buyer – This includes the time it takes to prepare your property for sale, market it and secure a buyer.
2-3 months from offer to completion – The buying process from when your offer is accepted to legal completion takes approximately 2-3 months.
Total average time of 4-6 months – From listing your home to completing the sale, you can expect the total process to take around 4-6 months in the current UK property market.
However, it's important to note that the timeline can be faster or slower depending on your particular situation.
Typical House Selling Timeline in the UK
| Stage | Timeframe | Description |
| --- | --- | --- |
| Pre-Market Preparations | 2-4 weeks | Preparations before listing the home, including decluttering, cleaning, repairs, hiring an agent, and gathering necessary documents. |
| Marketing & Finding a Buyer | 4-8 weeks | Property is listed, and efforts are made to generate interest among potential buyers through various marketing strategies. |
| Offer Negotiation & Acceptance | 1-2 weeks | Negotiation on price and terms after receiving an offer, leading to the acceptance of an offer. |
| Conveyancing & Legal Proceedings | 8-12 weeks | Legal proceedings including searches, title checks, surveys, and property inspections, leading to the exchange of contracts. |
| Completion Day & Exchange of Keys | 1-2 days | Final step where ownership changes hands, funds are transferred, and keys are exchanged. |
| Total Average Timeframe | 4-6 months | Overall time it takes to sell a house in the current UK market. |

Key Factors That Impact the Time to Sell
There are several key factors that can impact how quickly you are able to sell your property in the UK:
Type of Property
Houses tend to sell more quickly than flats/apartments, with the average time to sell around 42 days for houses compared to 62 days for flats.
Unique properties like castles or manor homes usually take longer to sell due to the smaller pool of buyers.
Location
Properties in high demand areas or popular school catchments tend to sell faster.
Homes in more remote locations or regions with lower housing demand may take longer to find buyers.
Listing Price
Overpricing your home compared to its true market value will turn away prospective buyers and extend the selling time.
Adjusting your listing price to match the current fair market value for the area will attract more interest.
Condition of the Property
Well-maintained, updated homes in move-in condition tend to sell more quickly.
Properties requiring significant repairs or renovations may require more time to find the right buyers.
Market Conditions
Stages of the Home Selling Process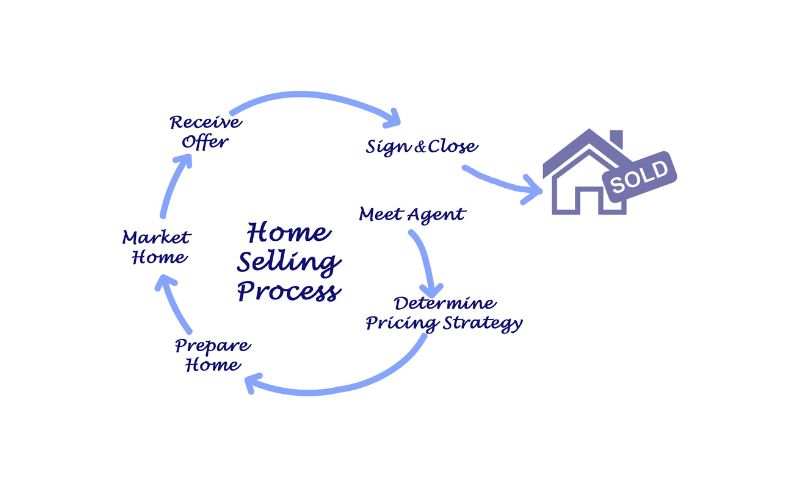 To gain a better understanding of the typical house selling timeline, it helps to break it down into the key stages from start to finish:
Pre-Market Preparations
Timeframe: 2-4 weeks
Before listing your home for sale, there are some important preparations to make:
Declutter and clean to showcase your property in its best light.
Make any necessary repairs to plumbing, electric, appliances, etc.
Hire a real estate agent to advise on pricing, marketing and timelines.
Professionally stage your home to appeal to buyers.
Gather necessary documents for the sale such as ID, title deeds, EPC certificate, floor plans, etc.
Taking time on the front end for home preparations sets you up for a quicker, smoother sale process down the road.
Marketing & Finding a Buyer
Timeframe: 4-8 weeks
Once your property is listed on the market, the next stage is generating interest among potential buyers:
Your agent will market the listing via local property sites, their agency website and social media.
You may hold open houses or broker events to showcase your home.
Within 4-8 weeks, you hopefully receive an attractive purchase offer.
Pricing competitively and effectively showcasing your home's best features will help secure a buyer more quickly. If you are considering selling to a cash house buyer, be sure to read cash house buyer reviews to find a reputable company.
Offer Negotiation & Acceptance
Timeframe: 1-2 weeks
After receiving an offer, some back and forth negotiation on price, terms, and conditions is common:
Work with your agent to assess the offer and determine if it meets your minimum expectations.
Make a counteroffer if needed until you reach an agreement both parties accept.
The buyer will provide a deposit and sales contract to make the offer binding.
Being flexible on negotiations can help finalise a deal more promptly. But don't feel pressured to accept an offer that doesn't suit your needs.
Conveyancing & Legal Proceedings
Timeframe: 8-12 weeks
Once the offer is accepted, the legal proceedings and paperwork begin:
The buyer's conveyancer will conduct searches and title checks.
Your conveyancer will address any legal paperwork and title transfers.
Surveys and property inspections will take place.
The mortgage lender will process financing (if applicable).
Both parties' solicitors exchange final signed contracts.
Efficient solicitors and prompt replies to inquiries can help expedite this stage. But allow sufficient time for careful due diligence.
Completion Day & Exchange of Keys
Timeline: 1-2 days
This final step is when ownership officially changes hands:
The day of completion is agreed on by both parties.
The buyer's funds for purchase are transferred securely.
Keys are exchanged, either directly or via estate agents.
You vacate the home by the possession date agreed.
Congratulations, your property sale is now fully complete!
Total Average Timeframe: 4-6 months
After tallying all the stages, the typical house selling process takes approximately 4-6 months in the UK market currently.
How to Shorten Your House Selling Timeline
If you need or want to sell your property more quickly, there are a few tips that can help streamline the process:
Price competitively – Set the listing at fair market value based on recent comparable sales.
Prepare thoroughly – Take time to declutter, clean and make repairs before listing.
Stage optimally – Professionally stage and style your home to attract buyers.
Market extensively – Utilise all effective channels to advertise your listing.
Remain flexible – Be open to feedback and reasonable offers to secure a deal.
Stay responsive – Reply promptly to all inquiries and information requests.
Keep pushing forward – Don't allow delays and keep the sale moving.
With dedication and a proactive approach, you may be able to trim your total selling time by a few weeks or more.
When to Expect a Quick Sale
While 4-6 months is the typical current average, it is possible to sell your property in as little as 8-12 weeks in some cases:
If you have a highly desirable property in a popular area and price it competitively.
In a red-hot seller's market with bidding wars on homes.
If you are flexible on your timeline and willing to accept a fair but quick offer.
When both your and the buyer's solicitors complete tasks promptly.
If you need a fast sale and promote it as a "motivated" listing.
With aligned motivations between buyer and seller, a quick UK property sale can certainly happen.
Key Takeaway
Selling a home in the UK takes an average of 4-6 months currently, from listing to completion. The fastest sales may close in 8-12 weeks, while some can take longer in challenging market conditions. Your specific property type, location, price point and readiness will all impact the timeline. Working with an experienced real estate agent and conveyancer, pricing competitively, preparing thoroughly and remaining flexible will help expedite your sale. While it takes patience to sell a property, following these tips can help sell your house more swiftly.
If you need to sell your house quickly, be sure to consider reputable cash house buyers as an option and read reviews of top cash home buyers like MyHouseBuyers, Quick Move Now, GoodMove and We Buy Any Home to find the best fit for your needs. With a cash buyer, you can sell your property in as little as 7-28 days in many cases.